Smart technology is becoming a part of everyday life. We have smartphones that remind us what and when we have to get things done. We have wearable technology that track everything from our steps to our heart rate. And smart devices for the home, from thermostats and light switches to refrigerators and vacuum cleaners, are constantly being created — all with the purpose of making everyday life a little easier.
The Rocketbook Wave ($59.99, originally $78; stacksocial.com) is a smart notebook that aims to revolutionize another everyday task that can often go overlooked — note taking. It combines the physicality of writing in a traditional notebook with the convenience and security of taking notes on a laptop or tablet. And if you haven't taken handwritten notes in years — a smart notebook might be the perfect opportunity to switch that habit. A study from the Association for Psychological Science shows that when it comes to remembering and absorbing information, taking notes by hand is more effective than typing them.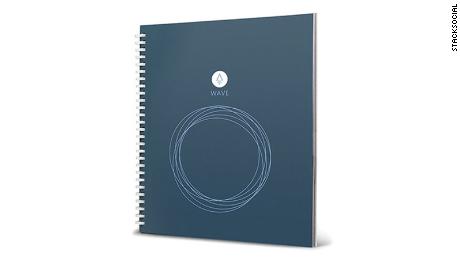 So how does it work? The actual notebook is similar to a traditional one. It contains paper pages, spiral binding and you write in it with a pen. The pages are dotted, as opposed to lined, which make them perfect for everything from math problems to sketching or shopping lists. But that's where the predictability ends.
With the Rocketbook app, you'll scan your page of notes — which will be reproduced as crisp, vibrant images — and then you can send them to any number of places online. Symbols at the bottom of each page in the notebook can be connected to a location within Google Drive, Evernote, Dropbox, Slack and a bunch of other online storage apps. Just mark an "X" on the symbol that's connected to the location where you want your notes to go, scan the page, and they will be sent there. There are also other helpful capabilities with the app, like the ability to transcribe your handwriting into an email and search through past notes.
Once you fill all the pages, just stick the Rocketbook Everlast Reusable Notebookinto the microwave to start all over again. That's right — the Pilot FriXion pen ink disappears from the pages at 140 degrees. You can use the notebook up to five times, making it a great solution to paper waste and used notebooks that just end up taking space.
The Rocketbook comes in two sizes, Letter (8.5- by 11-inch) and Executive (6-by-8). Both are available for $59.99 — 23% off their original price of $78. One notebook comes with acid-free, fine-grain paper, a Pilot FriXion pen and the Rocketbook app, which is compatible with both iOS and Android.
So embrace the best of both worlds to start taking better notes with the "world's first smart, reusable notebook."
Note: The prices above reflect the retailers' listed prices at the time of publication.
Source: us.cnn.com