The MarketsandMarkets report on micro-location technology market covering the opportunities for indoor positioning platforms have shown healthy projections of growth from US$14.1 billion in 2019 to US$34.1 billion by 2024 at a CAGR of 19.4%. APAC is leading the world with significant growth in this sector.
Figure 1: Opportunities in micro-location technology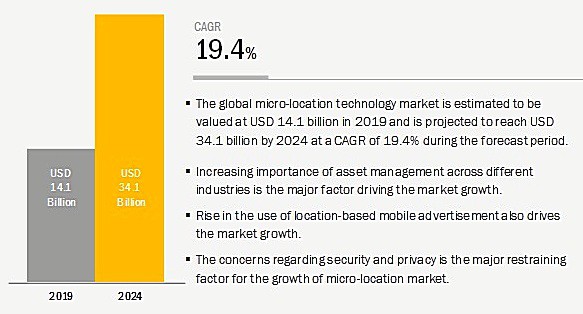 Source: MarketsandMarkets 2019
Looking through that report brought two things to mind.
Firstly, though GPS technology has gone a long way in being one of the key pillars of technology that has aided the proliferation of dating apps, ride-hailing, and food delivery services to become part of our daily lives, it does not work well enough indoors, creating a need for indoor positioning platforms.
Secondly, a good amount of that growth is predicted to go towards maintenance services and support on a regular basis. This presents a disruptive period where the relevancy and expansive applications of the technology are met with growing pains and disruptions, as industries do their best to internalise how indoor positioning platforms can suit their needs.
Spatial analytics – the base data for IoTs and services in the future
The possibilities for indoor positioning platforms will expand beyond tag, monitor, and trace. With up to 90% of our time spent indoors, there is a wealth of data that businesses can use. Businesses are becoming savvier in their approach to data to stay competitive, moving from being data-led and reactive to being data-driven and active.
We will see indoor positioning solutions become the base pillar of data that IoTs will leverage to improve their performance. Data from indoor positioning can also be used to improve other services.
The potential for indoor positioning solutions to enhance our IoTs in the future with spatial analytics is the driving force behind the growth we will see.
Move beyond the growing pains today
Just as GPS technology has paved the way for instrumental changes, we believe that before companies can fully unleash the potential of indoor positioning platforms, the solution they choose to adopt should have these bases covered for a relatively painless process.
Accuracy – Reliable indoor positioning solutions are able to monitor, and distinguish movements from multiple entities under a meter laterally and vertically. Reading must be consistent across different environments. This is the base level of acceptability now, and we will see noticeable improvements in the future that push the benchmark forward.
Software – The software platform has to work perfectly on a mobile device as it does on a terminal. Through a mobile device, the ability to ping users on the system with the right tags, identify and mark a range of assets through classes, and to set up geofenced locations and specific parameters need to be available and easily modified. Being cloud-based might seem like a feature now, but it will be an expectation in the near future.
Hardware – Beacons that boost signals, and tags for high-value assets, have to support meaningful firmware updates to keep performance and security factors to be level with the times. Over-the-air (OTA) firmware updates should always be free, not requiring the service to go offline, and never risk "bricking" devices.
This is especially true when indoor positioning solutions become more entrenched as part of a company's digital infrastructure. We foresee that the indoor positioning solutions that move without the combination of robust hardware with firmware support will become part of the avoidable maintenance and support cycle that will hurt the companies that engage them.
The state of indoor positioning solutions tomorrow
For indoor positioning platforms to reach their potential and be relevant beyond 2024, service providers and the industries that want to incorporate them have to expand their understanding and the current purview of the technology as just an accurate indoor GPS variant.
Incentivise and engage the people being tracked – The retail industry has leveraged on gamification elements to enhance their online to offline experiences to guide consumer behaviour.
In other use cases where indoor positioning is used in office spaces, additional productivity and social elements can be incorporated. As indoor tracking becomes the norm, it becomes important to show how it improves the lives of those who are being tracked for it to become accepted and viewed as helpful, not intrusive
Create new datasets – Supply chain logistics professionals will see a direct correlation in how this detailed data will help improve their processes and expand their datasets, and other industries will follow.
In the near future, datasets will include accurate, real-time location as an essential parameter by default. Location as a variable will be the link that creates new correlations between IoTs and services, this will lead to discoveriesthat can improve the way we work, and how we interact with our world that we had not thought about.
Security and privacy – We are moving from the age of information to the age of reputation largely due to bigger digital footprints, and indoor positioning will constitute a large part that will affect companies and individuals. Greater nuances to data security and privacy laws will come to pass to balance the responsible use of the data and the extent of the usage.
The ability to truly ascertain "where" gives context and augments the "when", "what", and
"who" those different IoTs were meant to work with. Indoor positioning technology is poised to be the next iteration of GPS, and the backbone of how our technologies work in the future.
source: https://futureiot.tech/indoor-positioning-platforms-the-foundation-of-iot-data/