The pandemic has provided the momentum for a shift in thinking about IoT building management from being aspirational to crucial.
Pippa Boothman from Disruptive Technologies 30 Mar, 2021
Over the last year, COVID-19 has fundamentally changed the workplace, initially closing down offices, heralding a shift from physical to virtual services offerings, a greater embrace of cloud computing, and increased adoption of digital tools such as online communication platforms and asynchronous collaboration tools. For many businesses, COVID-19 has provided the impetus for organizations to rapidly accelerate their digital business transformation plans moving from on-premise to on-demand digital service offerings. But while a digital-first mindset has benefited many organizations, the reality is that not all roles and tasks are conducive to a remote-only workplace. As the severity of the pandemic slows down, many workplaces are preparing to return to the office.
This return to work is the moment for smart building and smart city IoT to move beyond an abstract but cool feature of new smart buildings to a necessary part of building infrastructure and workplace culture. IoT systems will provide the necessary data for workers to safely return to work and occupy offices and wider city infrastructure. Additionally, the ongoing data derived from tiny sensors operating throughout buildings will become a powerful tool in assisting workers in feeling informed, empowered, and safe as they return to relative normality. User interaction and understanding of buildings IoT services will extend to a point where a 360-degree view of a building's temperature, occupancy, cleanliness, and air quality will be non-negotiable for workers returning to work.
Sensor-based IoT delivers detail
IoT smart building systems work by a series of sensors being deployed throughout a building. Some sensors can now be so small, non-intrusive, and light they are attached to desks, infrastructure, and architecture using only commercial adhesive tape. This sensor network can be made up of various types of sensors, including temperature, proximity, air quality, and sound, to create a full view of the building's health and asset status. The capabilities of this suite of sensors provide an opportunity for both granular data monitoring and can be the basis for further deployment of advanced analytics.
An example of the insights granular data from sensors can provide is occupancy monitoring/tracking. Temperature sensors under desks and chairs can provide real-time, anonymous & private updates to a dashboard that can inform building, workplace, and facilities managers about room and floor space allocation. Based on data from humidity and CO2 sensors, advanced analytics can look at air quality levels throughout the day and inform heating and air quality schedules and anomalies.
A tiny temperature sensor on a stair railing.
Smart building data provides psychological safety (and productivity)
Over the last 12 months, many people have been on a learning journey to decipher and apply public service announcements relating to lockdowns, quarantine rules, and national health data as we try to get a sense of control over what we know and understand is happening in our buildings.
IoT-enabled smart building systems take the guesswork out of 'what's safe.' Previously IoT data was held by industrial building and facilities management. The new IoT paradigm is making insights from sensor data available for all building types at all levels. Building occupants can now monitor occupancy and air quality from both public display and internal office apps, allowing them to give feedback to building management and inform their own decisions on which rooms to enter, which floors to spend time on, and what times of the day they feel most comfortable based on occupancy, temperature, and air quality data.
IoT informs office change that is safe now and superior forever
The COVID clean
Every day there's new research on the safest surface materials, UV disinfection, and cleaning robots. While employees need to be responsible for their own (appropriately distanced) workstations, communal areas need regular cleaning. Office cleaners are in hot demand, and the usual spreadsheet scheduling won't cut it – cleaning needs to be done more often and effectively. IoT sensors stuck on doors, chairs, tables, windows, and stalls can track the use of communal areas such as kitchens, bathrooms, and meeting rooms to determine if and when cleaning is needed based on use, rather than relying on a manual schedule.
IoT sensors send alerts when hand sanitizer, soap dispensers, and towels are running low, removing the need for manual checks. Even tracking the frequency of the opening and closing of restroom doors gives insights into how often the bathrooms need cleaning and whether stall occupancy has been reached. A simple digital screen can be installed outside the bathroom to inform users if and when it is safe and clean to enter.
Alone together
The current need for social distancing will pass, but its impact will remain as we enter a period of heightened awareness about personal health and safety. Desks will be separated, and signage will map the safest routes around the corridors to avoid accidentally meeting groups. But how well are the measures working? Sensors will tell you.
Motion sensors will track people's flow around corridors, identifying bottlenecks and hotspots where people get too close to each other. Wearable tech can also receive sensor alerts when workers are standing too close together. This information can track behavioral change progress and inform staff accordingly.
Instant user feedback
IoT-enabled office spaces have the ability for their users to provide feedback on temperature, air quality, occupancy, and other monitorable items quickly and anonymously. Room occupants can request a temperature change by simply touching a sensor. This request can be fulfilled instantly by an automated building operation system or a member of maintenance staff. These requests combined with historical temperature data help inform building maintenance staff of users' preferences, all while monitoring safe levels of air quality and ventilation.
Smart buildings must be part of a smart city
Smart cities use the same IoT systems as office buildings to improve the quality of life for businesses, residents, and visitors – both present and future. Typical smart city initiatives focus on traffic patterns, weather, heat mapping, people flow, and the functionality of public utilities such as lighting, parking meters, smart traffic lights, buildings, transport, and waste collection.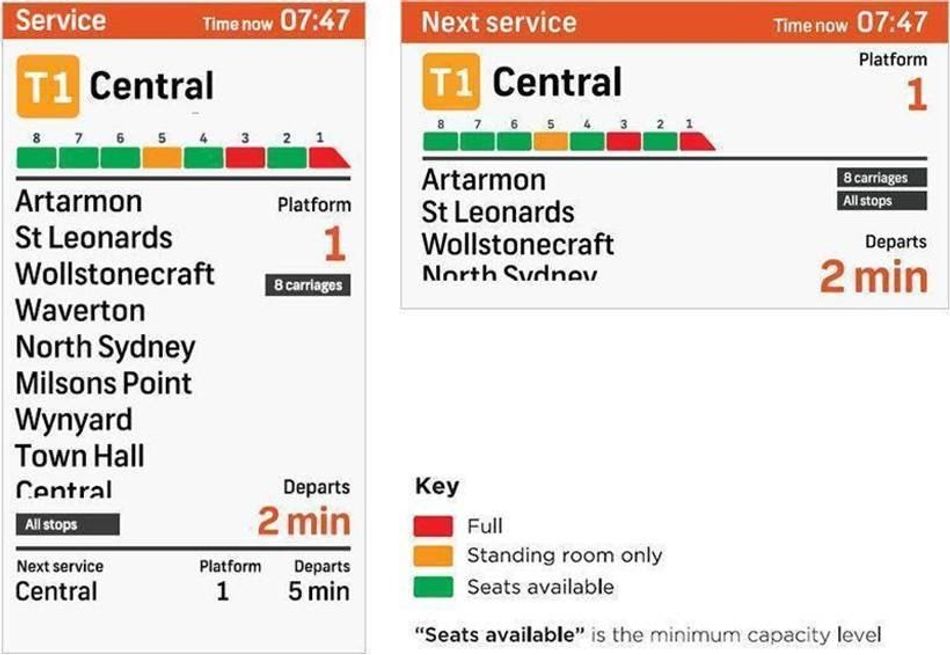 IoT sensors provide commuters occupancy information for trains in Sydney, Australia. Source: Transport for NSW
Covid-safe related building data can help influence cities plan for ways to get their residents back to living vibrant urban lives. As with IoT systems inside buildings, an essential element of smart city success is the interconnectedness between city data and residents. Increasingly IoT-aware residents will demand the data to make the right decisions for their own safety and comfort.
Digital displays, kiosks, and billboards can be installed in both city buildings and public spaces to display information in real-time such as air quality, temperature, traffic monitoring (including rerouting due to emergencies and public events), and public transport timetables. These can be interactive with voice commands and gesture recognition replacing the traditional touchscreens. Mapping apps advise commuters of bus and train occupancy rates and directions to alternative modes of transport such as e-bikes and scooters during peak periods. These displays can also be installed to good effect in company foyers to provide public information and include building-specific information such as news for tenants and interior temperatures and indicate when staff last cleaned bathrooms, kitchens, and public spaces.
Additionally, company buildings can also play a pivotal role in sustainable city innovation. Technology is transforming energy generation, storage, distribution, and consumption. The focus is on microgrids that enable buildings to trade energy P2P with neighboring businesses or feed excess energy back into the grid. Companies using sensor tech to increase their maintenance utility and energy efficiency will be in an optimal position to save money, decrease their carbon footprint and improve their standing locally.
New paradigm demands robust IoT
IoT data needs to be accurate. First-generation sensors were bulky, complex, and often inaccurate. Disruptive Technologies is the Norwegian developer of the world's smallest industrial-grade wireless sensors. They are building integratable IoT sensing systems that employ their tiny sensors in combination with their own dashboard (DT Studio). Based on these tiny sensors, leading-edge companies build solutions and integrate their own systems into their clouds to deliver solutions for smart buildings, facilities management, and workplaces. There's no need to "rip and replace" legacy systems to turn them into "smart" equipment. Disruptive Technologies sensors are tiny, wireless, and easy to install by peeling and sticking an adhesive backing, with no glue, screws, or pairing necessary. They have a lifespan of up to 15 years and are mechanically molded for robustness. End-to-end security from the sensor to the cloud is built into their design.
Beyond COVID
Inevitably, COVID-19 will result in permanent changes to office culture. Change is necessary but doesn't have to be complicated or expensive – you don't need a full-body thermal scanner or to spend an extravagant amount on excessive-tech. Cool tech that doesn't provide insights for behavioral change won't act as a barrier against COVID-19 or future health concerns.
Smart building IoT efforts must be occupant experience-led, with a focus on solutions that are agile, responsive, and work seamlessly with your building. While making offices safe for the return to work is important now, systems must be designed for the long-term that deliver more comfortable, efficient, and adaptable workplaces for all occupants. 
source: https://www.wevolver.com/article/making-iot-visible-is-essential-for-getting-back-to-the-office-and-beyond